Welcome! We are glad you are checking in!
We have had lots going on this summer. We didn't make it to National Night Out… there was a brush fire RIGHT ACROSS THE STREET from my house, complete with Level 3 evacuations. Minimal harm done… our excellent and relentless firefighters got on it quickly and had it out in less than two hours! We were sorry to miss the event, but I was too distracted to attend a community event, let alone be an exhibitor. We will be back next year!
One of our nurses hosted us for a wonderful gathering in her garden this summer. It was a time of refreshment for all of us. We enjoyed tasty delicacies made by our team and enjoyed the spiritual food found in fellowship. We have always enjoyed gathering together and hope to do more of it in the coming months!
We met with Conner Booth, Legislative Aide to Oregon Representative Jami Cate in early August to bring them up to speed on what we are doing to move faith community nursing forward in Linn County – and in Oregon and beyond. Representative Jami was unavailable – this is a busy harvest time on her farm – but Conner was interested and we will be keeping Jami and him in the loop, for sure.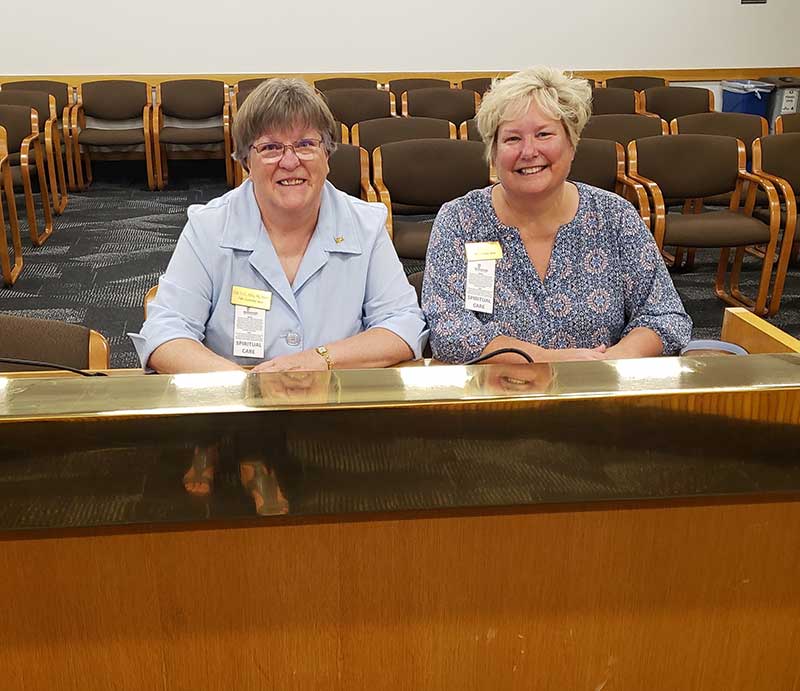 On August 11, Marcy Shanks and I met with Senator Deb Patterson, who serves as Chair of the Senate Interim Committee on Health Care. She is on several committees and Task Forces that relate to the work we are doing, and we think she will be able to help us. Interestingly, Senator Patterson is in a unique position to do so! Take a moment to read her biography and you will see that she has been an ally for faith community nurses for many years, but it was called parish nursing back then. We brought three issues for consideration:
Exploring compensation for faith community nurses, perhaps following a model similar to the funding model currently used to compensate community health workers. Faith community nurses can do much more, yet there is currently no mechanism to pay RNs for the work they do in the community.
Exploring liability protection options for faith communities who choose to have faith community nurses. RNs, especially in Oregon, are autonomous, function under their own license, often carry their own malpractice insurance, and they typically have close, trusting relationships with members of their faith communities. We have found no evidence in the literature to suggest that faith communities are at risk of lawsuit for the work of nurses leading and working in ministries for their congregations, yet we have found this to be a concern among faith leaders we have surveyed formally and informally, and they are reluctant to allow a faith community nurse to practice.
Assistance with nurse recruitment. We know there are nurses interested in this nursing practice specialty, but nurses tend not to check email often, and trying to reach them other ways is challenging.
We look forward to connecting with her again.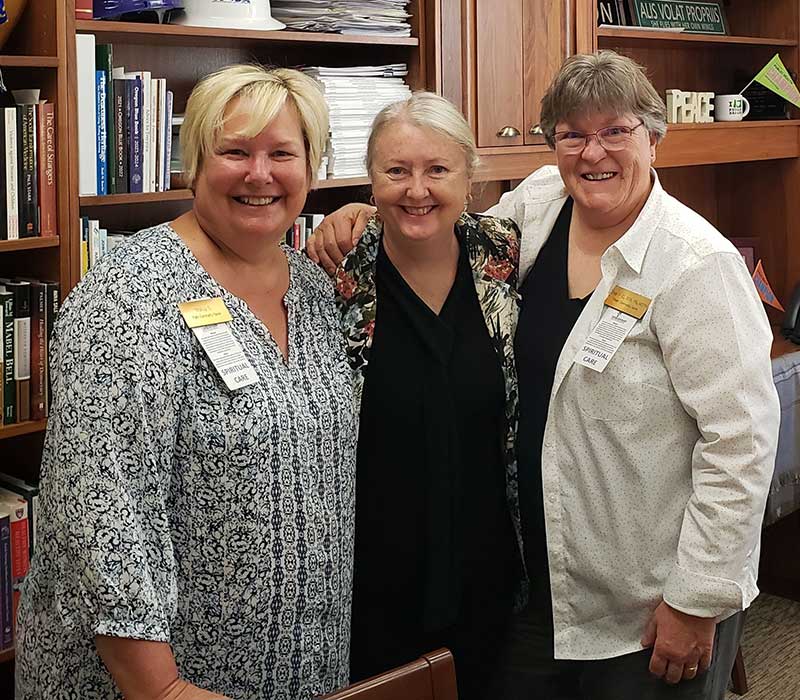 We had a wonderful educational session on August 23 featuring Angel Harris, Equity Consultant with Harris Consulting. We had 17 in the class from attendees coming from as far as Portland! This session was in person only.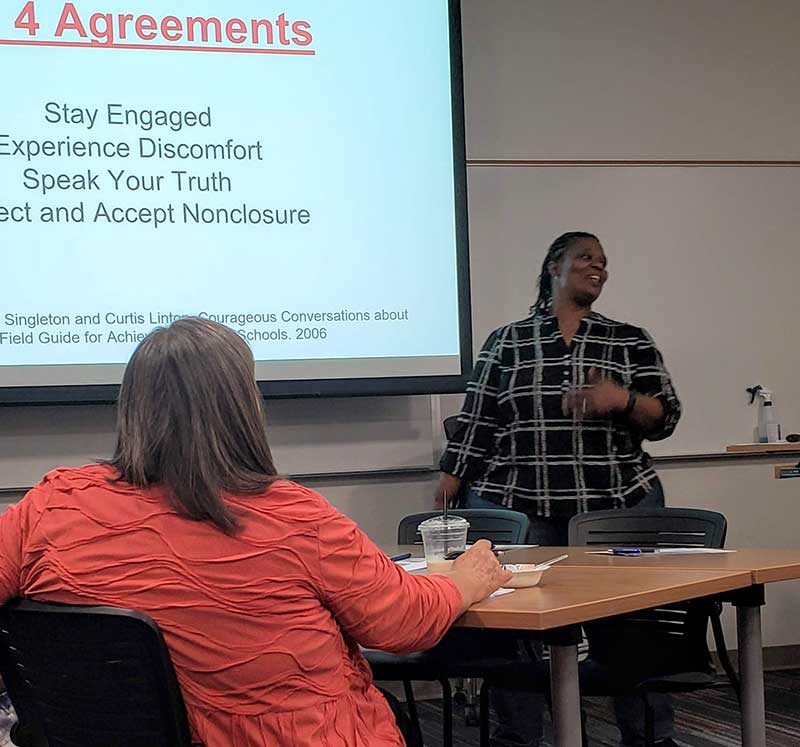 After an action-packed August, September looks to be just as lively! We have some exciting education coming up on September 27, 2023. Dr. Robert Fallows, PsyD, APBB, will open our session with a rich mental health topic. Dr. Fallows is a mental health provider with Samaritan Health Services and was the recipient of the Early Career Service Award by the National Academy of Neuropsychology in 2019. Welcome Dr. Fallows! Beck Low, Community Health Worker Training HUB Coordinator with Benton County Health Services will wrap up our session with information on the Benton County Health Services Training Hub, something we are eager to hear more about.
We are working hard to get the word out about our Foundations of Faith Community Nursing Course. Check it out on our Events page! We spoke to a representative from the Oregon Center for Nursing yesterday to brainstorm ideas to reach Oregon nurses who might be interested in this practice specialty and got some great ideas from that discussion. More to come on that! For now, we will have a display up in the Samaritan Lebanon Community Hospital from September 1-15, 2023 and will host the Lebanon Area Chamber of Commerce Greeters on September 22, 2023 at 8:30am, also at the hospital in Lebanon. We will be in Conference Rooms 3 & 4.
Contact Deb at faithcommunityhealthnetwork@gmail.com if you would like to be added to our mailing list, and if you are in our area in the morning on September 22, stop by and see us!